Ready to refresh your website?
The start of the year is a great time to take a hard look at your existing design – or even new projects – and think about how to incorporate some of the latest trends into the framework.
You might would have seen many articles for Web Design Trends of 2017, But this is the sorted version of all the trends and contains the list of only the most important trends in Web Design.
From functionality to color and typography, 2017 will be a year of new ideas and new visual concepts to explore. Some of those designs are already starting to pop up, providing you with just enough visual inspiration to get off to the right start in the this year. Let's take a look.
#1 Minimalism
One of the principles of good design by Dieter Rams says that "good design is as little design as possible". Designing a beautiful, minimalist website is not an easy task. You have to figure out how to combine few elements with a lot of white-space and get a good looking layout. Remember, less is more.
#2 New Navigation Patterns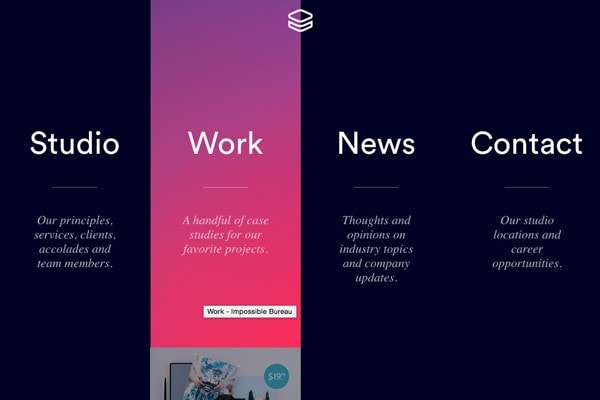 Navigation does not have to be glued to the top of the design. From hidden or pop-out styles to navigation on the side or bottom of the pages, it is trendy to move the menu. (As long as the placement is still quite obvious.)
When considering a change to navigation styles, think about user patterns. Is the navigation easy to find and does it work in a manner that users will understand intuitively? If so, go for it. If not, rethink the idea.
Some creative navigation UI patterns here
#3 Micro-interactions
Micro-interactions occur between bigger interactions. For instance, a "ding" sound when someone has liked a photo you've uploaded or a simple animation after pressing a button. The feedback from Micro-interactions is critical in creating an immersive mobile design, but small enough not to distract. In fact, they can help teach users how to navigate and interact with a website. Micro-interactions can also strengthen brand identity and help guide a user's attention.
#4 Forms and inputs go full-screen
More sites and apps are going with the full-screen forms and input screens (such as signups and logins) instead of it existing in only one small part of the site. Click on "login" and or "contact" and you may be greeted with a full-screen overlay with the form needed instead of being sent to a different page. Some example of this are
#5 Design will continues to flatten out
With responsive design pretty much taken over the Web, expect flat design to continue to be a dominate design aesthetic throughout 2016. Not only will there be websites that launch with flat designs, those sites who've already embraced the flat design trend will look to make things even flatter.
Take for example Google's logo. The company changed its logo to make it more flat (losing the bevels) and changed the font. It found that a cleaner sans-serif font for its logo helped cut the size of the logo file used on sites by more than half. Google also found that it was easier to read on smaller devices.
#6 

Hover Animations
Users tend to hover their cursor over an element if they are uncertain about its function. Hover animations take advantage of this uncertainty by creating a responsive animation. This on-hover response provides the user with instant feedback. The browsing experience becomes more seamless and uninterrupted while the website seems tighter and more immersive.
Few final words:
These were few prominent web design trends which would rule throughout 2017. Whilst we think that the above trends are pretty good, try not to implement all of them onto your website at once. Opting for the appropriate moves in your website design and development process so as to fulfill your vision and goals is the right thing to do. So be selective, be careful and most importantly be smart & creative.